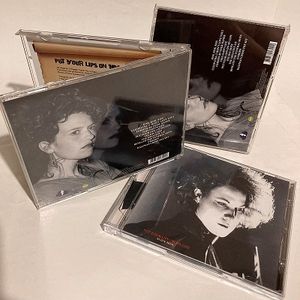 Put Your Lips On My Lips is my new Alien Skin 2022 album. Available on CD from POPoNAUT in a limited run of 200 only jewel cased pieces.

Or click to buy the digital album from BANDCAMP.

'both nostalgic and futuristic', 'emotional and visceral state of mind', 'runaway rhythms', 'cool musical art', 'disturbing synth overtones', 'consecrated dark atmospheres' JAMSPHERE MAGAZINE
CD LINER NOTES
"Cleopatra, for her amusement, stuck a golden needle in her slave girl's breast". I read that line in Dostoyevsky's novel, 'Notes from the Undergound'. I adopted it for a song lyric setting in motion the beginnings of a new album. The peasant girl from Domrémy burnt at the stake under funeral skies, from Mark Twain's 'Personal Recollections of Joan of Arc', had me emotionally stirred. 
Consuming 101 audiobook-novels and listening to volumes of electro-gothic-goodness from a certain not-to-be-named band during lockdowns, galvanized this literary and music inspiration, materializing as the album, 'Put Your Lips On My Lips'. 
Ultimately, the album is a dedication to Irene, my late wife and favourite human whose life ended in 2020. It has no rigid narrative but the totality of the work expresses in atmosphere, in melody, in lyric, a state of existence...my reality in the moment. 
'Put Your Lips On My Lips' began life in October 2021 and was fully realized, grown up and ready to leave home by November's end. It was so spontaneous and organic in its writing, performance and production - almost automatic - that I barely remember making it. For me, the album is a random diary and archive of perhaps my favourite tunes, vocals, synth layers, atmosphere and rhythms. 
My gratitude to ScentAir Records for their continuing belief in and support of what I do. I hope you enjoy this 10 song experience with us.

~George

10 TRACK ALBUM PREVIEW

'KISS KISS KISS'

'PUT YOUR LIPS ON MY LIPS'

'THIS HAPPY LIFE'

'FORMED BY YOUR HAND'

'HALFWAY CROSS THE SKY'

'LEAVE SOMETHING FOR ME'